Logistics & warehousing
Next-level logistics and warehousing through automation
We can help transform how you store and move products and materials, creating bespoke robotics and automated machines that boost efficiency and productivity.
The challenge for the logistics and warehousing sector is deceptively simple. Booming e-commerce is rapidly increasing the number of consumers wanting more, quicker, while labour shortages are making it harder for businesses to deliver. Companies need to lower operating costs to counteract shrinking margins, and keep up with the disruptive business models that innovators like Amazon have set as the new standard.
Robotics and automated machines help you overcome these constraints, ultimately getting products to homes faster, more conveniently, with less impact on the planet. By automating intensive and repetitive tasks, labour can be upskilled to work on more valuable and fulfilling activities, whether alongside robotics or on tasks where people will always have the edge over machines. Productivity, quality and morale all increase, transforming the way you operate.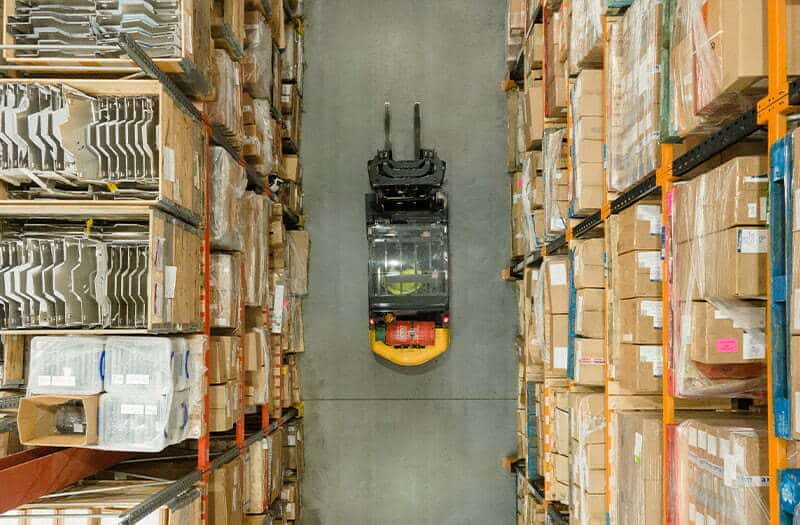 The expertise we bring
We're here to help you radically reinvent everything from intralogistics devices to last-mile delivery concepts, maximising efficiency at every stage. Automating monotonous tasks means you can assign your teams to more creative tasks, further improving your company's ability to break new ground. If your business faces logistics and warehousing challenges, the robots and automated machines we create for you can transform the way you operate by building clear strategic advantage. There's no fixed remit for what we can take on, and we thrive on partnering with companies in emerging technology sectors to help you innovate fast.
Boosting warehouse efficiency
We understand just how much potential there is for streamlining and optimising how you move goods and materials in warehouse environments. Autonomous mobile robots and automated guided vehicle systems can transform the way your goods are picked and sorted, far faster than is possible by hand.
We can design and build vehicles and their bespoke accessories for precision handling, carefully calibrated to cope with fragile and awkward loads. And because of our knowledge of artificial intelligence including vision systems, we can create robots highly aware of their surroundings that can navigate unpredictable layouts. Material handling can be dramatically improved with automation too, making production lines run more smoothly while reducing the risk of human error from arduously repetitive tasks.
Smarter storage
A huge amount of space – and time – can be saved through automated storage and retrieval systems. By replacing manual teams with automated machines, building capacity expands because robots can manoeuvre in far less space. We can create 'crawler' machines with intelligence smart enough to retrieve specific items accurately, climbing higher than people can safely reach. Consumer-facing storage is equally primed for innovation. Intelligent automation can make 'smart containers' more convenient, giving people the ability to pick-up and drop-off items in city centres, neighbourhoods and transport hubs, day or night – no staff needed.
Faster, more sustainable delivery
Every stage of delivery, whether it's first-, middle- or last-mile, can be transformed by robotics and automation. We can help fully electrify or entirely automate the first-mile section of your route, or design inventive ways of improving middle-mile connections such as the transfer from logistics partner to car dealer. Maximising space by moving vehicles robotically boosts capacity and speeds up turnaround times, while reorganising cars without turning on engines has the further benefit of cutting down on carbon emissions.
The exponential increase in demand for home delivery requires a radical change in how we get goods along the last mile from stores to homes too. Our expertise can take autonomous delivery vehicles and drones to the next level, dramatically improving sustainability by taking polluting vans off the roads while addressing labour shortages. And we can help you with advanced micro-fulfilment, creating the technology needed to run 'dark stores'. Essentially convenience stores the public never visit, operations can be highly automated to enable much quicker local deliveries that don't rely on centralised warehousing.