About
End-to-end solutions for robotics and automation
Tharsus are experts in robotics and automation. We design and manufacture strategic machines that transform business performance and address the world's biggest challenges.
Our team of innovators, engineers and problem-solvers are leaders in robotics technology and all aspects of automation.
Where others see impossible, we see opportunity. Where others see problems, we see world-changing challenges. As one of the leading robotics companies in the UK, creating groundbreaking machines for global brands, we're pushing the boundaries at every stage of the process, from initial concept to commercial delivery.
We help you take giant leaps forward, building strategic advantage over your competitors. That's why we call what we make 'Strategic Machines'. So much more than contract manufacturers, we take you from innovative ideas all the way through to the finished product. Manufacturing at any scale, from prototyping and small runs to large volumes. Together, we engineer progress.
Understanding the true potential of robotics and automation
Strategic Machines have the power to transform how your business operates. Smart use of expertly designed industrial automation can tackle some of the biggest issues companies face, from strengthening consumer power and an ageing population, to digitisation and the threat of climate change. Robotics will make sure you keep ahead of disruptive competitors and technologies, while playing an essential role in overcoming some of the most significant challenges facing our planet.
Commercially-minded strategic transformation
We're driven by a resolutely tough commercial focus. Never innovation for its own sake, we always have our sights set on generating new revenue streams that take your company to the next level. Our work helps retailers deliver to customers much faster, allows farmers to produce crops more sustainably, and enables under-resourced hospitals to give more people around the world access to the surgery they need.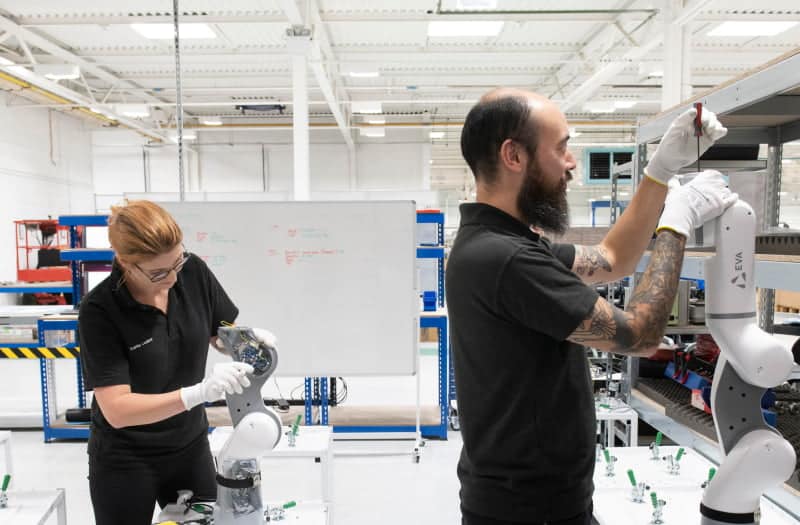 Teams with unrivalled expertise
Our unique combination of designers, engineers and makers will help you navigate the entire new product development process, always in close partnership with your team. From initial idea to commercial clarity, through technology strategy and development to delivering world-class robotics manufacturing, we offer truly disruptive innovation that enables a new product to completely transform its marketplace.
In prime position for innovation
A multi-disciplinary team of over 200 specialists collaborate in our 90,000 square foot facility in Northumberland, an emerging centre for UK technology businesses. It has a rich heritage in market-disrupting engineering and technology innovation, and is well placed for fast national and international travel and supply chain infrastructure. What really sets us apart is the unique way we have brought all our design expertise and manufacturing capability under one roof. By working together on a single site, every decision can be informed by experts from every specialist team, resulting in highly-considered end-to-end solutions.
Who we have worked with
Discover how we have transformed our customer's business performance and address their challenges.
Awards
The high calibre of our people and our unique business and process models, have seen us win extensive recognition. Most recently:
North-East Chamber of Commerce Company of the Year 2022
Listed #17 – Fastest 50 – Ward Hadaway 2021
Business Hero of the Year 2020 – Chamber of Commerce
President's Award for Pandemic Service 2020 – Royal Academy of Engineering
Runner Up – Manufacturing Matters – Make UK 2020
Winner – Employer of the Year – The Chamber Business Awards 2020