How we work
The right mix of people and resources for technology innovation
We help you take giant leaps forward. Using our proprietary approach, 'The Key', we deliver outstanding robotics and automated machines that revolutionise your market.
The Key encapsulates the way we work. It's how we navigate you from initial idea to scale manufacture and commercial success.
Central to the process is ensuring the right resources and people are focused on the right elements at the right time. It starts with robust commercial needs assessment, through technology exploration and diligent design, all the way to manufacture. It enables progress, guaranteeing you clarity of project status, deliverables and outcomes.
Navigating the new product development process
We bring products to life that have never been designed and manufactured before. Which means we can't rely on tried-and-tested project management processes. Those principles may work for mainstream product designers, manufacturing and engineering businesses, but in our world, we often face steeper challenges as we venture into the unknown. This is particularly relevant at the start of a project when the final destination – and the route to get there – can be far from clear.
Customers may be new to product ownership, which is why we talk about navigating you along this journey. We're here to guide you through a process of clarifying commercial goals, identifying technologies, defining specifications, rapid prototyping, pilot manufacturing and finally, full production.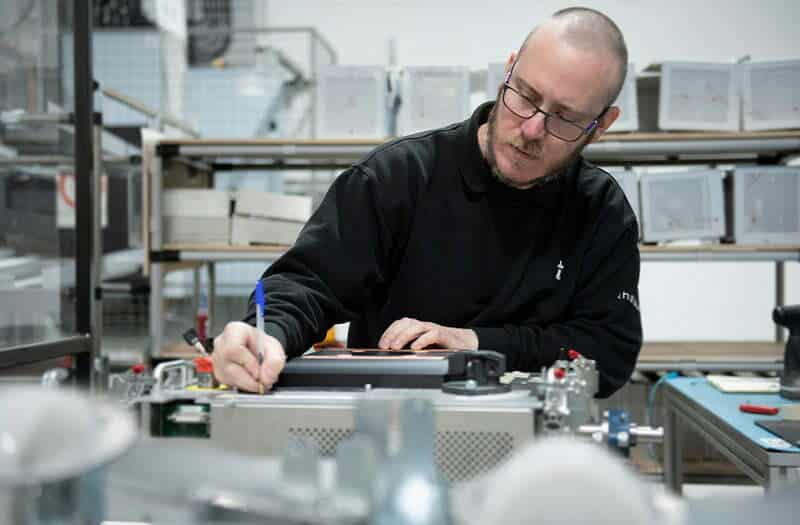 Success here will take exceptional technical, operational, commercial and communication skills, not least because the shared goals and ambitions we identify at the beginning of the new product development process may change as things develop. Crucially, we're constantly collaborating closely with you - and often with key suppliers too - to combine your knowledge with our technical and operational expertise as a leading robotics and automated machine company in the UK. It's how we produce game-changing robotics and industrial automation that disrupts markets and brings you substantial commercial success.
Building a unique and lean supply chain
It takes a huge amount of time and specialist knowledge to build the global network of services and products needed to take you from initial idea to production. That's why most manufacturers only have one, then reverse engineer the needs of the product based on what the existing supply chain can handle. We're different. We give you an individually tailored and lean supply chain, ensuring your robot or automated machine moves quickly and efficiently from design through rapid prototyping and into product manufacturing.
We start working with you much earlier in the process than a traditional contract manufacturer, so understand the precise needs of your robot or automated machine far in advance. This gives us much more time to search our global network of suppliers and partners. Once shortlisted, we use our extensive knowledge across the team to appraise, audit and select the best choice, agree contracts, then design, plan, execute, control and monitor all supply chain activities with you. It's a very agile process, and we're continuously analysing the value of goods and services for optimum performance.