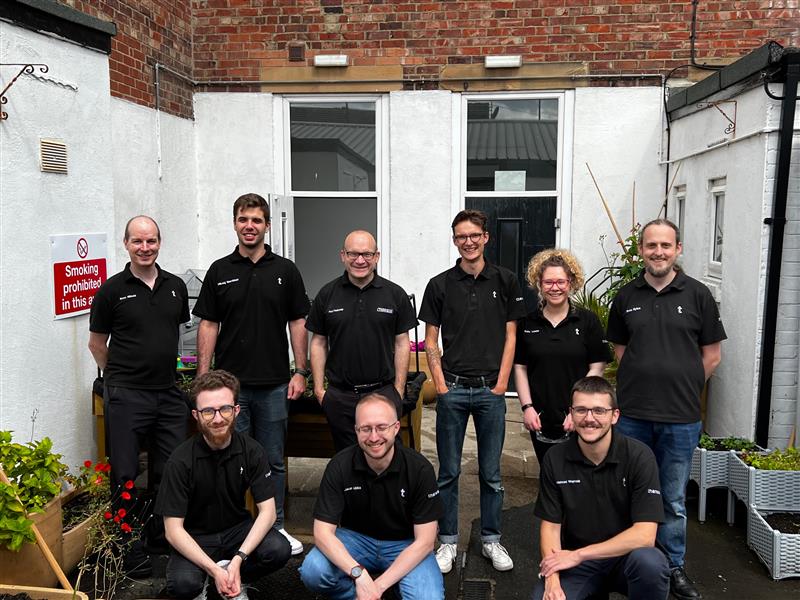 Tharsus digital team lend a hand
Digital Gathering '22
Category
Published on 20-07-2022
Our new news series "Lifting the Lid" shares with you a fly on wall glimpse of the lighter side of Tharsus life as our colleagues Aim Higher, Think Wider and Work Together.
In this first bulletin, our Tharsus Digital Team, based in the UK, Poland and the Philippines, converged on Blyth for their inaugural week-long Digital Gathering 22.   An opportunity for them to further build the strong culture of collaboration which is crucial to their work.
Our Digital Team has a really rich and diverse range of expertise.  Software developers rub shoulders with embedded systems engineers, psychologists, mathematicians, multi-agent pathfinding specialists, physicists, roboticists, and aerospace experts to create digital solutions which unlock the innovation Tharsus uses to solve big problems for our customers.
Deep Space Blyth
The first part of the week saw them pit their heady mix of expertise against a Space exploration challenge via a hack-a-thon during which they created some very cool tech using ESP32-cam dev boards, computer vision, and machine learning techniques.
Happy to help, Buffalo!
The second half of the week, saw them turn their attention to a more social problem, helping out at The Buffalo Community Centre in Cowpen Quay, Blyth.  This fantastic grassroots community centre delivers a broad range of affordable activities for all ages and abilities, including a computer drop-in, martial arts, a junior youth club for children with special educational needs and disabilities, art classes, a camera club a craft club and last, but by no means least, a ballet bar.
Volunteers at the centre were quick to put our team to work.  Everything from cleaning toys that had been donated for a new mother-toddler group, moving and setting up computer monitors (something in which they have a degree of prior experience) cleaning out a future hot-desk space, jet washing the back yard to spruce it up for the summer and wiping down many, many tables.
Nice Job!
We are always on the lookout for great people.  If you would like to find out more about our Digital Team – or even join them – you can learn more about our current opportunities here.
If you'd like to support the Buffalo Centre, you can find out more here .  Please do like and share this post to spread the word about the great work they do.