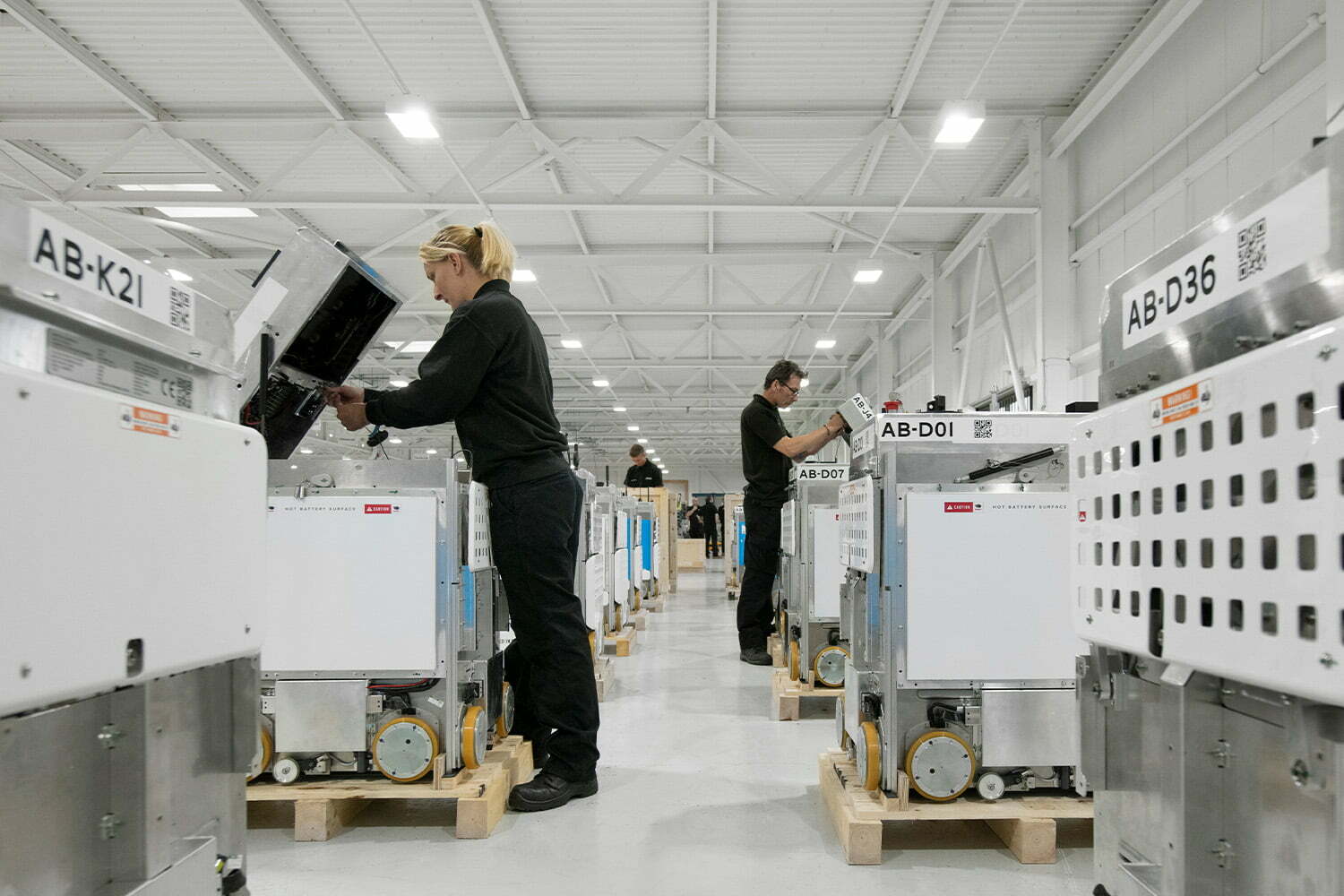 Ocado extends Tharsus partnership to upgrade grocery market for a post-Covid world
Agreement builds on pioneering approach to robotics and brings increased investment to Northumberland and the North East region.
Tharsus, one of the UK's most advanced robotics companies, announces that its partnership with Ocado Group, the world's leading online grocery platform provider, has been extended. The new agreement builds on an existing seven-year relationship and lasts until September 2024, as Tharsus continues to support Ocado's efforts to revolutionise the global grocery market through its unique and proprietary Ocado Smart Platform.
As the grocery sector adapts to the disruption of the Covid-19 outbreak, supermarket companies around the world are increasingly understanding the importance of home delivery and seamless online capabilities. Ocado Group has already developed the technology-driven infrastructure required to enable the food retailing industry to deliver the best customer experience online with attractive and sustainable economics.
Through the Tharsus factory based in Blyth, Northumberland, the partnership will also result in a multi-million-pound investment in Northumberland, and secure over 100 UK jobs. Founded in 1964, Tharsus has evolved into a leader in UK robotics, with a track record of delivering progressive, robust and innovative technology solutions to companies such as DHL, Automata and Small Robot Co.
The latest agreement will build on a long-standing partnership based around the manufacture, on behalf of Ocado Group, of progressive generations of sophisticated robotic technology which has revolutionised the process of fulfilling grocery orders made online.
Tharsus will play an important role in helping Ocado Group respond to rapidly growing market demand for its automated, robotic fulfilment platform with Tharsus continuing to manufacture the crucial robots that make up the system, as well as providing aftermarket support and supply chain services and some development support to Ocado.
Brian Palmer, CEO of Tharsus, said: "The Covid-19 pandemic will have a lasting impact on how the public engages with the supermarket sector, forcing retailers to adapt quickly and develop online platforms to supplement bricks and mortar stores. The model pioneered by Ocado will increasingly define the grocery experience in the 'next normal,' as shoppers opt for home delivery services that limit health risks.
"Tharsus' robotics has been central to keeping Ocado at the cutting edge of such trends, facilitating its disruption of the global grocery market and ascension to the pinnacle of the UK technology sector. We are excited to continue our long-standing relationship and push the boundaries of a rapidly evolving sector. Aside from the innovation gains to be made, the partnership will bring new investment and jobs to the local area. We were founded in the North East and are proud to be a focal point of the community here.
Mark Fryer, Engineering and Supply Chain Director at Ocado Group, said: "Tharsus has been a strong and constant partner in our journey to become the world's leading e-commerce platform for grocery. We are delighted that they will remain part of this journey in the future and we are glad that our work together will bring investment and jobs to the region as they share in the growth of Ocado Group's business globally".
About Tharsus:
Tharsus is a designer and manufacturer of game-changing autonomous solutions. We call them Strategic Machines. Strategic Machines use a combination of technologies to tackle steep automation challenges, solve tough business problems and drive real 'strategic' impact for our customers, helping them to gain competitive advantage in the automation age.
Tharsus has delivered robust and progressive automation solutions for some of the best businesses around the world, including Automata, DHL, Ocado, Rolls Royce and Small Robot Co. Our collaboration with international experts from industry and academia ensures best use of existing and emerging technology. Our state-of-the-art operations mean we can develop and deliver game-changing solutions at scale.
'Do the right thing' is our mantra. It drives everything we do and how we do it, for our colleagues, partners, suppliers and community.
Tharsus is based in Blyth, Northumberland, the UK's emerging powerhouse of advanced manufacturing. We are the UK National Chambers of Commerce 'Employer of the Year'.  Industry recognition includes The Sunday Times Tech Track 100 list of the UK's most exciting technology businesses and several category wins in The Manufacturer MX Awards.
About Ocado Group:
Ocado Group is a UK based company admitted to trading on the London Stock Exchange (Ticker OCDO). It comprises one of the world's largest dedicated online grocery retailers, Ocado.com, now a joint venture with M&S, together with its Solutions division. Ocado Solutions is responsible for Ocado's corporate partnerships, providing the Ocado Smart Platform as a service to retailers around the world. OSP comprises access to Ocado's physical infrastructure solutions, running highly efficient warehouse operations for the single pick of products, together with the entire end-to-end proprietary software applications required to operate a world class online grocery business. It is underpinned by Ocado's proven expertise and experience as a dedicated online grocer in the UK. Ocado Solutions is partnered with leading grocery retailers worldwide, including Kroger, Sobeys, Morrisons, Groupe Casino, Coles Supermarkets, ICA Group, Bon Preu Group, Aeon and Ocado Retail.